Voce verso is an independent children's publishing house that focuses on illustrated books. Voce (Voice in Italian) from the desire to carry the child's voice to stress out what it conveys and sometimes whispers softly. An inner voice to explore all directions, front and back and upside down. Add some creativity and high standard and you get Voce Verso ! Fun fact, the compay stood out from the beginning through a great silent book collection !
Representation : Foreign rights and movie rights worldwide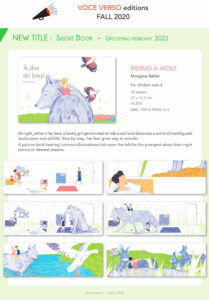 Discover VOCE VERSO titles in our books database.